Philips P5 Engine. Whatever the source, always perfection.
The Philips P5 engine delivers a picture as brilliant as the content you love. Details have noticeably more depth. Colours are vivid, while skin tones look natural. Contrast is so crisp you'll feel every detail. Motion is perfectly smooth.
Dolby Vision and Dolby Atmos. Cinematic vision and sound.
Support for Dolby's premium sound and video formats means the HDR content you watch will look-and sound-gloriously real. Whether it's the latest streaming series or a Blu-Ray disc set, you'll enjoy the contrast, brightness, and colour that reflect the director's original intentions. And hear spacious sound with clarity, detail, and depth.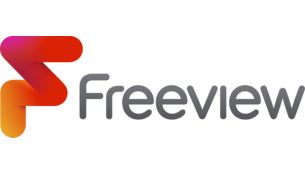 Freeview Plus television service networks
Freeview Plus is a television service delivered via aerial and broadband providing a state of the art EPG and seamless access to Catch Up TV across the Freeview networks, with the simple press of a button on the remote control.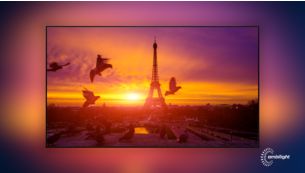 Ambilight. Take the emotion beyond the screen.
With Philips Ambilight, movies and games feel more immersive. Music gets a light show. And your screen will feel bigger than it is. Intelligent LEDs around the edges of the TV cast on-screen colours onto the walls, and into the room, in real-time. You get perfectly tuned ambient lighting. And one more reason to love your TV.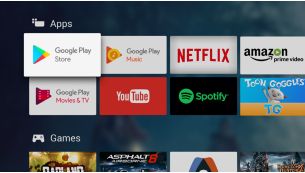 Google Play store and Philips app gallery. More to love.
Go beyond traditional TV programming with Google Play Store and Philips App Gallery. Experience endless movies, TV, music, apps and games online. More to love.
HDR10+ supported. See more of what the director intended.
Your Philips TV is primed to get the most out of the HDR10+ video format. Contrast, colour, and brightness levels are adjusted from frame to frame. Whether it's a must-watch series or the new blockbuster, shadows will be deeper. Bright surfaces will shine. Colours will be truer.
Android TV. Simply smart.
Make your Philips Android TV your own. If it's all about Amazon and YouTube this week, and Netflix next week-no problem. A clear, intuitive interface lets you put the content you love front and centre. Easily pick up where you left off in the latest series, or check out the new movie releases.
Google Assistant. Control the TV with your voice.
Control your Philips Android TV with your voice. Want to play a game, watch Netflix, or find content and apps in the Google Play store? Just tell your TV. You can even command all Google Assistant-compatible smart home devices-like dimming the lights and setting the thermostat on movie night. Without leaving the sofa.
Bright 4K LED TV. Vibrant HDR picture. Smooth motion.
Bright 4K LED TV. Vibrant HDR picture. Smooth motion. A Philips 4K UHD TV brings content to life with rich colours and crisp contrast. Images have more depth, and motion is smooth. Movies, shows, games, and more look great no matter the source.
See Warranty Terms and Conditions