Q-See provides specialist kits ready for the Do It Yourself home handy person, security consultant, electrical trades professional or technical support expert to install. The QT878-4RQ-1-AU kit is the bundle for those who want a future proof Super High Definition installation with intelligent video analytics. This kit uses the modern Power Over Ethernet cable connection type, supports up to 8x 8MP Ultra High Definition Cameras, outputs to a 4K Ultra High Definition monitor and includes support for Intelligent Video Analysis wen connected to Q-See 4, 5 and 8MP cameras.
This kit, like all Q-See Australia DIY kits includes four base line standard cameras with expansion possible to eight. It includes the Network Video Recorder, 4x 2MP HD bullet PoE cameras, a great user manual (a booklet not a CD!) and all cabling and power supplies. If you require an additional cameras these can be purchased as an add on for up to eight cameras in total. The part number is QTN8015B-AU and these are available from your retailer also.

Ethernet VS Coax?
Many people ask why should they buy Ethernet technology over the cheaper coaxial style Analog HD kits such as QTH98-4FT-1-AU? Simply its all to do with the future reuse viability of the cabling, the lack of any problems with electrical interference, the ease of getting contractors to install Ethernet cabling and the advanced 4K UHD resolutions possible for input and output.
Additionally Ethernet "IP" cameras can optionally support modern video analytics as the cameras in this kit do. Coaxial cable "analog" cameras dont have any intelligence capacity; they are simply just cameras.
Intelligent Video Analytics
The QT878/3332x-x/3364x-x/35128-16A2 all support the new range of Video Analytic Cameras from Q-See such as the QNT8053D and QTN8098B.
Detect if the stable part of a scene permanently changes with adjustable time sensitivities
Alert on camera blurr detection through fogging, deliberate smearing or otherwise.
Alert on motion within a multipoint area to detect movement through a window or an area that is out of bounds etc.
Provides alerts when objects (usually people) cross a line in either one direction, the other or both.
Detect when an object has been added or removed from a scene. Great for lost item recovery.
Area intrusion detection function for alerts when part of a specific scene region is used as an entry or exit point. Ideal for FireDoor alerts etc.
Detect if a camera is tampered through changed field of view, with masking, blocking, physical damage etc
The Recorder:
Q-See QT878 NVR : 8 Channel : 8MP 3264×2448 : 50Mbps : 8 POE : 1x 1TB hard drive : H.265 : HDMI-4K-Out : VGA-Out : Desktop fan less design : Smart Video Analytics
As the latest generation residential, small business grade network recording product from Q-See this NVR is packed with the latest technology. With support for up to 8x 8Megapixel cameras in 3264×2448 resolution this recorder has a bright and long future. It is the standard model in All Q-See Australian home and small business DIY kits supporting 2MP HD cameras all the way to UHD 4K 8MP.
Key Features:
Q-See QT878-B
8 Channel 8MP Resolution at 3260×2448 per camera
Main Processing Chip = ARM Cortex A7
8x RJ45 PoE ports for direct camera connection via Cat5e or Cat6 Ethernet cabling
Support for both H.264 and the latest H.265 compression CODECs for high quality video at maximum compression
ONVIF 2.3 conformance
4K output for true ultra high def viewing. HDMI x1 (4Kx2K 1920×1080 & 1280×1024) VGA x1 (1920×1080 & 1280×1024)
8 channel simultaneous playback
50Mbps total network access bandwidth processing capacity
8MP / 5MP / 4MP / 3MP / 1080P / 960P / 720P @ 25 and 30fps
Dual stream recording with manual, timer, motion and sensor based triggering
1x 10/100/1000 RJ45 Ethernet LAN port
TCP/IP, PPPoE, DHCP, DNS, DDNS, uPnP, NTP and SMTP support
1x SATA 3.5″ drives with 1TB unit installed
1x USB 2.0 and 1x USB 3.0 port
Remote control

≤5

W power consumption + hard drive power
300 x 250 x 45 mm (W x D x H)
The Cameras:
Four Q-See QTN8047B Bullet Cameras : 1/2.7″ 4MP CMOS sensor : 2560×1440 : 3.6mm Lens : 10-20M IR Night Vision : H.265 : IP67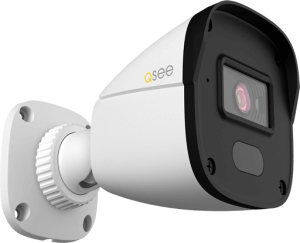 The QT878-4RQ-1-AU bundle comes with 4 Super High Definition Q-See QTN8047B bullet cameras with modern "square" styling. These cameras support a range of Intelligent video analytics functions including scene change detection, scene block, tripwire, item removal, left item and intrusion detection. With a higher megapixel rating than the earlier model Q-See IP cameras supporting full 1440P super high definition standard the QTN8047B IP Bullet is becoming the de facto standard for home and small business installation. It has a 89° field of view and plenty of night vision infra red LEDs. This cameras reliability, quality, clarity, ease of installation and neat design is second to none.
Useful for essentially all standard range applications this camera and its earlier siblings has been deployed by the millions world over. It is useful for covering residential houses on the outside, offices, entrance halls, and other small areas where reflection from more powerful IR cameras can interfere with the night vision. It offers 1440P super high definition images and can be relied upon like no other camera for its price point.
This camera has a 4.0 MP sensor, records in the traditional 4:3 format and has 3D DNR, digital WDR, 3 ROI and any angle adjustment.
H.265 Compression and Storage
The QT874 and QT878 both support a single SATA storage drive up to 10TB capacity which when combined with the newest H.265 compression codec ensures this unit is more than able to record and store the highest quality video feeds from 5 and 8MP cameras.
HDMI-4K 8MP Ultra High Definition Input and Output
The QT874 and QT878 NVRs support up to 40Mbps and 50Mbps of video stream aggregate bandwidth. This allows for camera streams in full 25fps 8MP 3840×2160 resolution. This input can be fully displayed on any UHD 4K display, TV or monitor.
Output is via 1 HDMI-4Kx2K port, 1 HDMI-1K port and a standard VGA port. These can be used in a variety of ways to distribute the displays in various modes across multiple display devices. HDMI extenders and splitters can be used.
Smart software and apps
Q-See's QT View for IPHONE, IPAD and ANDROID SMARTPHONES puts the power of peace-of-mind literally at your fingertips. Designed to work with our QT-series security DVR and NVRs, QT-View allows you to check in on your property, business or loved ones anywhere, at any time. Receive instant e-mail alerts and see what's going on with the swipe of a finger.
View live feeds from up to four cameras simultaneously. QT View takes full advantage of touch-screen technology to allow you to add or change video feeds, play back video or even control a pan-tilt-zoom camera . You can even take still images and save them on your phone or send them as e-mail attachments.